World-renowned Chef Thomas Keller** writes in the introduction to Mast Brothers Chocolate: A Family Cookbook (2013), "I could tell that they were men who shared my sensibilities, who worked with a rigor that bordered on obsession because that was the only way they knew. They sourced their ingredients meticulously and refined their recipes over and over until they arrived at the right results."
Flipping through the Mast Brothers Chocolate book, written by brothers Rick and Michael Mast – or the "pioneers of bean-to-bar chocolate" with a flagship factory and retail shop in Brooklyn, NY – one will likely become captivated by their compelling narration on the background and history of chocolate, interspersed amongst a variety of delicious, mouth-watering chocolate recipes, ranging from American classics such as brownies, cupcakes and cookies to more sophisticated truffles, chocolate meringue pie and more.
Filled with beautiful, artistic pictures and personal anecdotes – including a recounting of adventures and inspirations along the coast of Maine, at Thomas Jefferson's Monticello, at a neighborhood butcher shop in Brooklyn, and in a three-masted schooner, which they sailed across the Atlantic to source Cocoa beans in the Dominican Republic – the Mast brothers explain the secret behind their craft and how their method and strategy separates them from other chocolate connoisseurs. They write:
"We live in a time when consumers want to know the origins of their heirloom tomatoes, the diet of the cows butchered for their burgers, and the first name of their local brewer.  Chocolate somehow has avoided this microscope.  The large majority of all chocolate is uniformly bland, loaded with poor ingredients, and made by only a few companies, on a mega-industrial scale…
At Mast Brothers, we have handcraft chocolate in a way that seeks to highlight the unique characteristics of its exceptional ingredients, cacao and sugar…."
Needless to say, we strongly agree with the suggestion Chef Keller makes at the end of his introduction: "Take Rick's advice. Shake it up and evolve. Be fearless and experiment. Embrace continuous improvement in the pursuit of ultimate simplicity." What a great message as we head into a New Year!
You can quickly get a sense of the Mast brothers' passion, artistry and conviction just from visiting their website, here.
And while it was certainly hard to choose just one, we've selected a recipe from A Family Cookbook that we thought to be a timeless, Christmas chocolate classic:
Chocolate Oatmeal Cookies
Ingredients:
1 cup butter (2 sticks), room temp.
2 cups brown sugar
2 eggs, room temp.
2 cups all-purpose flour
6 tbsp. cocoa powder
2 tsp. baking power
1 tsp. baking soda
1 tsp. sea salt (or Kosher salt)
15 ounces dark chocolate, chopped (we have used Lindt, Ghirardelli and Cadbury Dark chocolate bars)
2 ½ cups rolled oats
Instructions:
Preheat oven to 350 degrees F. In bowl, cream butter and brown sugar. Add eggs, flour, cocoa powder, baking powder, baking soda and salt and combine. Add chocolate and oats and combine. Spoon cookie dough on baking sheet and bake 10-12 minutes. (Of note: You can also sprinkle the cookies with a few more oats prior to baking for a beautiful garnish! Also, we mixed ¼ cup of smooth peanut butter because we tend to like chocolate peanut butter everything – the cookies turned out just fine and delicious!)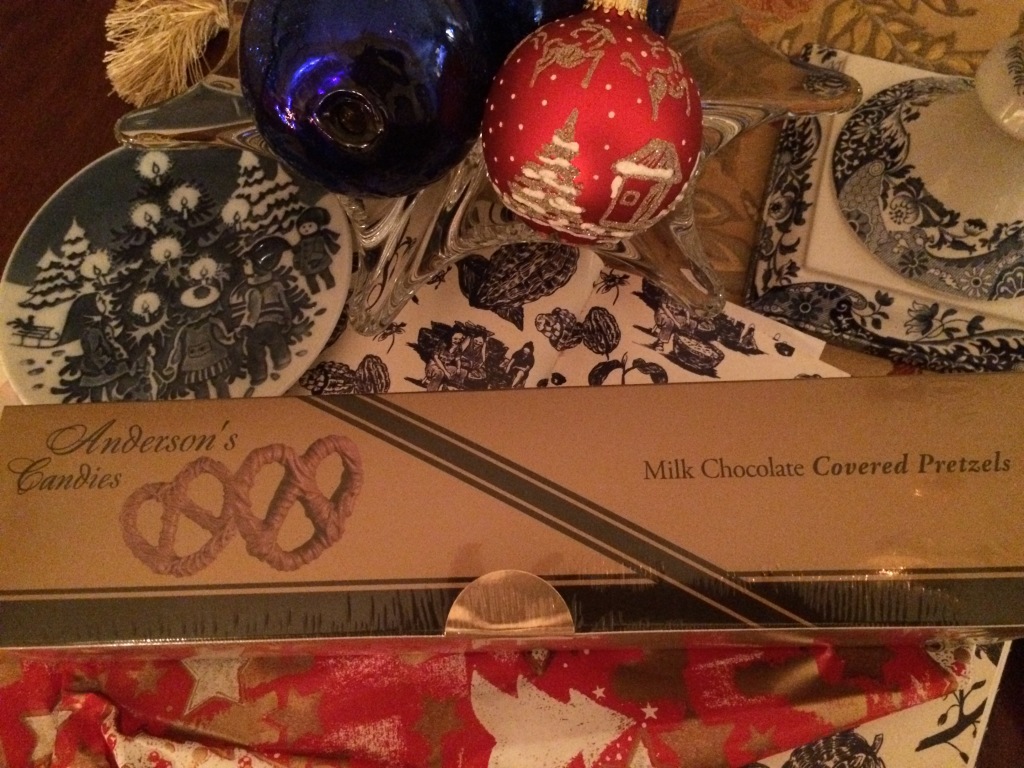 Of mention: All this talk of chocolate has reminded us of the Chocolate Covered Pretzels we've ordered each Christmas for the past 20 years from Anderson's Candies in Baden, Pennsylvania. There's a reason why we order them all the way from western PA – they're just THAT good!
---
*"Cioccolato: Il cibo degli dei" translates into "Chocolate: The Food of the Gods" in Italian. We couldn't help using the Italian, as it's a lot of fun to say – listen here!
**Thomas Keller, world-renowned chef and owner of esteemed Per Se restaurant in NYC and French Laundry in Napa Valley, is the first and only American-born chef to hold multiple three-star ratings from the prestigious Michelin Guide, as well as the first American male chef to be designated a Chevalier of The French Legion of Honor, the highest decoration in France. You can expect to learn more about him in future postings, but for now we highly recommend checking out his website, here (his 'philosophy' section, in particular).